The 31th edition of the National Oldtimerdag gets a British twist. The National Oldtimer Day in Lelystad is the annual celebration for historical cars, which takes place this year on 21 June. The event has a unique stage on the Bataviaboulevard in Lelystad. Every year, more than 400 vintage, veteran and classic cars find their way to this unique stage. This vintage car meeting has become the largest of its kind in our country and is free of charge.
The organization has linked some appealing themes to the 31e edition. "95 year Bentley" and "80 year Jaguar" are the backbone of the event in the capital of the province of Flevoland. The themes are flanked by musical accompaniment, the theme "70 year of liberation", an automobile market and attractive street theater.
80 year Jaguar
A nationally and internationally recurring phenomenon concerns the 80th anniversary of Jaguar, the legendary British brand that composed beautiful automobiles in its history. In Lelystad, visitors can enjoy the tangible history of the brand. For example, there is an SS 100 Jaguar Tourer (1936), SS I Jaguar 3.5 Saloon (1939), Jaguar 3.5 Mk V Saloon (1949), Jaguar Mk V 3 Position Drophead Coupé (1950), Jaguar XK 120 FHC (1952), Jaguar XK 120 OTS (1953), Jaguar XK 120 FHC (1953), Jaguar XK 150 (1958), Jaguar E-type OTS Flatfloor (1961), Jaguar 3.8 Mk II Saloon (1962), Jaguar Mk II Saloon (1963), Jaguar E-type Series I FHC (1965), Jaguar 420 Saloon (1967), Jaguar E-type DHC (1967), Jaguar E-type Series II (1969) and a Jaguar E-type FHC (1973) on display in Lelystad.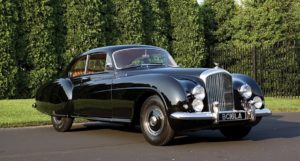 95 year Bentley
According to the organization of the event in Flevoland, it is a direct tribute to Walter Owen Bentley. The 'Bentley 95 Parade' is held during the National Oldtimer Day in Lelystad. In collaboration with the Bentley Drivers Club Dutch Region and Pre War Car, a unique collection of Bentley's has been brought together for our country. The first Bentley was launched in 1920. In its 95 years of existence, the British manufacturer has become a household name in luxury circles. The mobile collection that can be seen during the National Oldtimer Day has various models that made the brand great. Including a 3 Bentley 4.5 / 1924 Speed, 4.5 Bentley 1928 Tourer Vandenplas (winner of the Tulip Rally), Bentley 4.5 Blower Special (winner 24 Hours of Le Mans), Bentley Derby 4.2 Tourer (1934), Bentley 3.5 DHC Park Ward (1935), Bentley 3.5 Mayfair London DHC (1935) and a 1955 Bentley R Continental Mulliner Fastback Coupé, of which Rehza Pahlavi, Shah of Persia, was the first owner.

Richly varied
The organization has in any case composed a wonderful heart for the event. A British framework that will be surrounded by many other beautiful old-timers and activities. The event opens its doors on 21 June at 9.00 hours and is free of charge. Until 17.00 hours, visitors can ascertain the presence of beautiful heritage and a pleasant atmosphere.