Lining Sound or glue? And we are talking about brake lining. Bonding - or vulcanizing - new brake linings is a better option.
The advantages are: A) The brake surface is larger (no holes for the rivets). B) The contact between the brake lining and the shoe is better so that the lining can dissipate its heat better. C) the tool life is longer because no residual material is left 'under' rivet heads.
Sounding is easy to do yourself. Gluing or vulcanizing must
be left to the skilled person. And watch out with NOS New Old Stock brake shoes. It has happened more than once that an oxide film was formed between the light-weight brake shoe and the glued brake lining material. And that has often led to the entire brake lining coming loose during a brake action. The chance of a blocking wheel is very present. Also pay attention with NOS New Old Stock. They used to make brake pads from Asbestos. so at least use a good mouthpiece ...
When vulcanizing - chemical bonding under elevated temperature - of brake lining, thiuram mix is ​​used, among other things, which is used as an accelerator in the vulcanization process. That stuff is at least skin irritating. Therefore always outsource the gluing of the brake lining. To the company where we got our photos for example.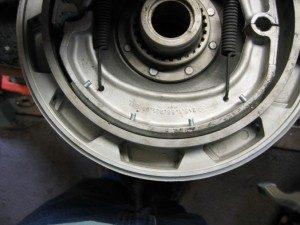 brakes, brake drum, brake lining, riveting, gluing, fitting or wearing?
For our photos AMK came to Catshoek in Nijmegen. This is one of the few traditional specialists where not only other brake linings can be made on the brake shoes, but where the new brake material can also be turned 'to radius' of the drum.
This creates an optimal frictional contact between the brake lining and the drum because the lining bears on the drum surface over its entire length. There is a home garden and kitchen way to almost achieve a similar result.
Take a strip of medium-fine abrasive linen with the width of the brake drum. The length of that strip must be such that there is no overlap in the drum. This strip of abrasive linen is glued into the drum with glue. The whole is loosely assembled and while the wheel is being rotated there is very slow braking. The irregular hiss now sounds from the drum with which the new linings lose their highest points. If the whisper from the drum is monotonous, the new lining will fit optimally.
Do not forget to remove the sandpaper, blow the drum and brake plate clean and remove the adhesive residue from the drum.
Oh ... you do of course work on your brakes at your own risk.