An acquaintance with a ZGAN motorcycle had a whole story about all the electronic misery that had kept him off the road this summer. At the end of the list, he raised his eyebrow: "But what old things do you ride? Surely you often have a hassle with that? "
Classic is reliable
So no. The cheering fact is, of course, that motorcycles from before 1990 are not hanging around their axes because of the electronics. Because electronics are broken. Apparently, that is not necessarily necessary. Because I know someone who has had a pacemaker for years without any problems. But in today's motor and car industry, marketers and electronic engineers have forged a conspiracy in which they decided to digitize everything that is possible. And then we are back: electronics break. Also because it is made so cheaply and en masse.
With 'our' motorcycles, things are still clear
The ignition can be (aftermarket) digital. If that fails, the end is the story. Some more conservative types still drive with contact points, an extra set of points, an extra capacitor and some on-board tools. They always come home.
But in fact, the classics that are still driving today have been restored, overhauled or at least cherished. They are often better with that than when they left the factory. And most of the horror stories you hear are from tipsy uncles on boring birthdays. They have never experienced them themselves. But 'everyone' knows that… Fill in it. British motorcycles are bad, Harleys do not brake and steer, Japanese motorcycles are bad in steering, Italian motorcycles always have electrical problems. BMWs are reliable. Russian classics are also bad, by the way.
Fortunately we know better
A daily used Moto Guzzi from 1991 also starts after a cloudburst. The thing has run a few tons in the meantime. The history that we popped up at TLM showed that the engine had gearbox problems when it had run 16D kilometers. In the meantime, the wiring has grown quite far from the original, but in all those years the power problems remained very clear. Last year a new link was received for the second time. For the rest, the beast has just had its maintenance. And that sometimes something has been replaced? He is now using some oil. But oil is cheap with the Action.
My first Ural combination was apparently one that was made for police or KGB. Serious quality control was carried out on these machines. The thing has been running 140D km. And has always come home riding. After 140D kilometers, a used Dnepr block was used. And for that Richard Busweiler is the incredibly affordable address. Replacement was cheaper than revision. Much cheaper.
Hurry ...
Of the current Russian, the revised block was apparently hastily assembled by the previous owner. This was also apparent when the block was dismantled. The thing became extremely hot due to leakage of combustion gases along the pistons and used four liters of oil from Cadzand Bad to Gelderland (350 km). But he faithfully brought his owner home.
And if a cable breaks along the way? Well, who doesn't have a spare universal cable plus a few tons? And with classics with a pull and a push cable for the gas control you can always cross the cables. Just keep thinking for a moment: you give gas by turning away from you.
Riding a new motorcycle to be on the road without a problem? Forget it. My modern motorcycling knowledge was a bit embarrassed by the story. He secretly started to like classics.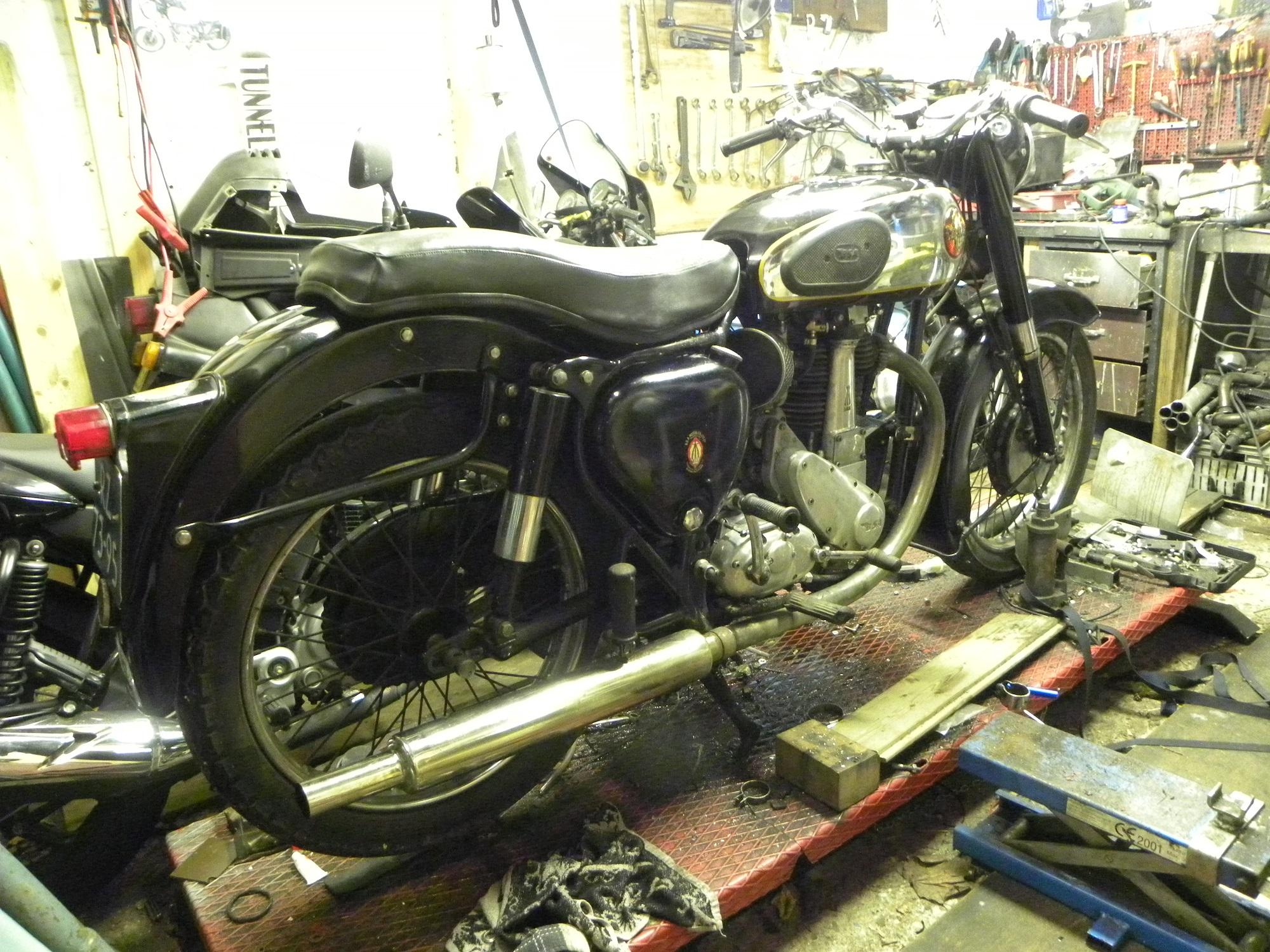 After 140D km equipped with a fairly fresh Dnepr block