The advertisement:
"Erik Buell's first production bike. Only 1000 of this unique Buell RR 50 Battle Twin have been built. The bikes were all equipped with the Harley-Davidson XR-1000 engine block. You rarely see a unique bike like this Buell Battle Twin. A real collector's item. "
We fully agree with Motor Saloon Amersfoort, the Harley specialist that has been around since 1968.
And why should such a machine cost just 2400 km on the clock not 99.950 euros? We already saw a very early MV with only a few kilometers less on the counter for a million ...
Erik Buell
The Buell motorcycle brand was founded by Erik Buell. It was his brainchild. The ambitious young Erik Buell, a pure engineer, quit his fine job at Harley-Davidson to make his own motorcycles for the AMA 750 Series. His first engine before that was the RW 750. That was a 750cc, two-stroke racer. A prototype of the RW750 first ran in the summer of 1983 during the AMA National at Pocono Speedway. Development of the RW750 continued in 1984 and a production model was launched in the fall.
Unfortunately the AMA decided in 1985 to scrap the 750 class. As a result, the RW750 lost its right to exist.
An enthusiastic engineer, Buell was not discouraged by this setback and returned to work full of enthusiasm. This time, his approach was to create the first US-designed and built world-class sports bike. Based on his knowledge of the racetrack and his experience as an engineer at Harley-Davidson, Erik Buell designed his first model for the sports motorcycle market, the RR1000.
These toppers were powered by Harley-Davidson XR1000 V twins and featured a stiff, lightweight chassis. The XR blocks were in fact tuned Sportster V twins, delivering a lot of torque and vibrations. The sheet metal in the wind tunnel. The rider was an actual part of the aerodynamics in the design.
The series production of these Buells got underway
And about two were made every month. Most of them came directly to collectors to be placed in the living room or safe. All in all, 50 RR1000s were made in 1987-88. The party was over when there were no XR1000 engines left. The brand then worked closely with Harley since 1993 and actually takes care of the sporty side of the concern. And that chapter has since been disposed of due to internal reorganisations. The Milwaukee men have not had a happy hand in choosing how to deal with their "other brands."
But the scarce copies from those short or not are usually all 'character bicycles'.
Plenty Ordinary Buells
In the meantime, there are of course quite a few 'normal' Buells on the market. They can be bought for prices that are miles and miles below the ton. And they are highly unique, they drive very dynamically and they have been and are appreciated. The problem is, they have too many Harley genetics and many of the Buell buyers didn't. A former Buell mechanic put it this way: "Things are bad and they are bought by people who can't ride them." Because no matter how aggressively dynamic such a Buell is: If you went with it or are going to drive as if it were a fast Jap? Then it breaks convincingly.
Add to this the fact that quite a few Buell riders went for not always well-adapted changes to the intake and exhaust route ...
The best choice is to find a fully documented standard copy. And if that is too boring?
Then buy that one-ton Buell at Motor Saloon. And put it in the living room.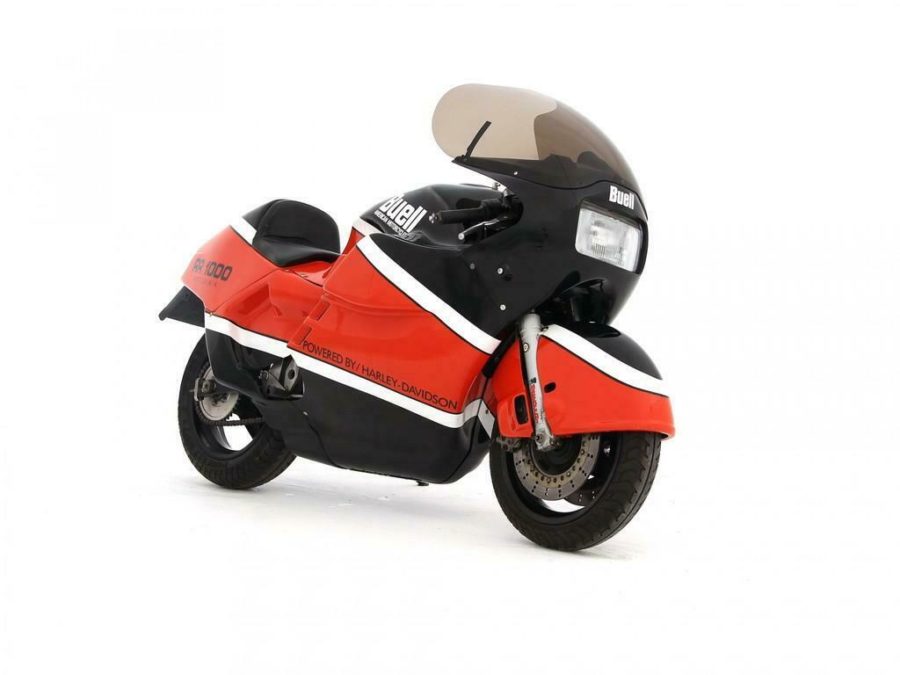 So now you just tap a ton for that ...
But driving Buell can be considerably cheaper