After the initial conversion steps in which I weighed the car and mounted the engine it was time to tackle the body. The car had been standing still for some time since it was purchased and was an older restoration with a large number of points that needed to be addressed.
Disassemble car
To be able to reach everything well, I started to completely dismantle and strip the car. It soon became apparent that the car was a lot worse than I thought.
Old repairs everywhere, often by welding a plate over a rust hole instead of a new plate in clear and clean metal. That is why courage sometimes sank into my shoes. I wanted to convert a car, no total restoration on top. The drop was an aftermarket sliding roof that could no longer be used without spare parts. So I went looking for a better body.
Search for a hard base
Finding a hard and somewhat affordable hard Volvo Amazon combi body turned out to be even more challenging than expected. In the end I looked at 14 out of a list of 11 cars. Unfortunately, 'the true one' was not among them for reasons ranging from already sold to no active Dutch license plate, doubts about identity or, upon close inspection, not as good as it had been suggested.
After a few wanderings, also when searching for complete cars and in the higher price categories, we finally decided to continue with our own combi.
Replace sliding roof
One of the most important points for attention was the sliding roof. It had a Hollandia aftermarket sliding roof from the early 1970s. Meanwhile no longer common and there were hardly any parts for it. My options were to seal the roof with a plate, replace the entire roof or replace it with a roof that is at least as large (90 with 55 cm). I definitely wanted a sliding roof with a steel roof plate. Since these have not been made for around ten years, it became a nice search. Fortunately I found a new demo version that I can have built in.
For that, the hole in the roof had to be reduced. A roof plate from a donor brought a solution. In addition, I immediately restored the curve that is originally in the roof of the combi.
Restoration in a tilt bridge
To be able to tackle the car all the way around, I hung it in a spit.
New bumper support holders
If you look beyond the top and inside, and take a good look at the bottom of the car, it turned out to be a lot worse than expected. For example, little was left of the rear bumper support holders.
So I completely removed it on both sides. At the same time it became clear that the style of the previous restorers did not suit my wishes. Everywhere, pictures were welded over the holes instead of in them.
The bumper support holders were indeed in the Volvo parts books, but were not for sale as a repair part. That's why I drew something myself.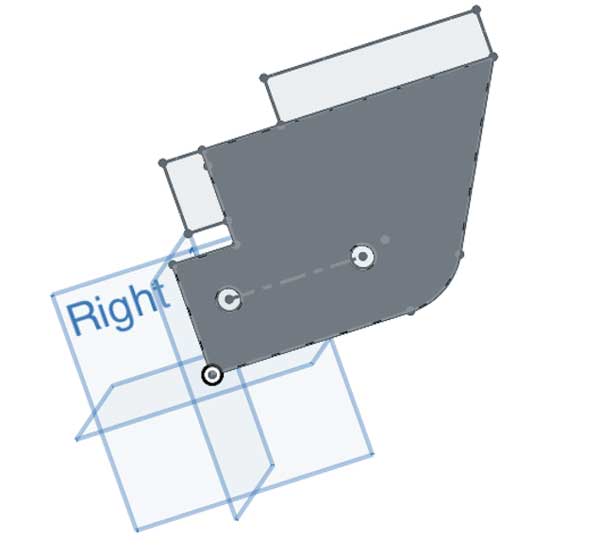 For example, I had the parts laser cut. Both the side plates and the spacer through which the bumper support can go.
Both supports are assembled by means of prop welds using the holes already drawn and then welded onto the car.
In the end, that too was just the tip of the iceberg. The floor at the front left including part of the box beam also had to be redone.
When the beams were again in place, the floor could be made. To this end, I made a plate that fitted exactly in the hole and was provided with holes for prop welds on the flanges of the beams.
Identity investigation RDW
At a certain point I had the RDW carry out an identity investigation. This is also recommended by themselves in the context of 'Avoid identification problems when restoring vehicles". In my case I had this inspection done at my home.
If successful, the car will be provided with a seal. With this I now know for sure that after investing many euros and hours, after investing many euros and hours, I will not be faced with any surprises due to doubts about the identity of the car.
Wheel rims, sill, inner wheel box
The wheel rims, sill and inner wheel box also needed attention. Unfortunately, the positions and dimensions were no longer correct due to earlier repairs. The shell behind the rear wheels was too far back and the sill was too short.
All this was masked by thick layers of filler. Then another basis? Still untraceable unfortunately. So just keep going. Removed the sill, repaired the inner sill where necessary
I then hung the doors in it to re-align everything.
Eventually I ran into a donor. Not so much as a new basis, but for sheet metal. There was also a lot of work on this body and the project was stranded.
However, the right rear screen was already detached and I could use it nicely for my project. This hull also yielded a number of other interesting sheet metal parts as a spare that cannot be purchased as new repair sheet metal.
Welding all this in is still a job in itself, to be continued. More about that in a next episode of this Electric Volvo Amazon combi conversion series (tag # old volvo-electric) on AM Classic. Want to see a preview or more details in advance? The project can be found at www.oudevolvo.nl/ev-combi.