better? Yet? No. But the world was a lot more authentic.
That was because new mechanical things were being developed and because there were no marketers yet who put the label "authentic" on everything.
Marketers and managers have taken authenticity with them and they do things with it that 'water boarding' the Americans in Guantanamo Bay is child's work.
In the meantime, it is a trend to re-incarnate old, 'authentic' brand names in all kinds of gadgets and life style related merchandise.
Watches, sunglasses, helmets, clothing. You name it.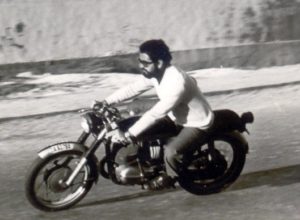 In addition, it is often assumed that the legendary names of the past have eternal value instead of being known only to a hard core of 50 + sers.
The naan 'Bultaco', for example, appears to no longer ring a bell for people under forty. And with that the sellers who put their motorcycle helmets on the market under that name still miss the link with which they flutter.
Good: Bultaco nowadays makes trendy helmets.
But we would like to get in touch with someone who has a Bultaco Metralla.
Because that was once the fastest two-stroke engine in the world.
With its 250 cc and 29 hp that poison frog – which in its day with that displacement was just a middle class car – ran the magic 'ton', 100 mph. 160 kilometers per hour. With the race kit, the Metralla was even 34 hp strong…
Look, and we would like to tell a story about that.
Would you like to have a look in your shed to see if you happen to have one left?