And that despite the fact that his name was derived from that very cozy polonaise, originally a Polish dance. Not Brabant or Limburgish. No not at all.
ANCIENT
In 1978 the FSO Polonez was launched by the Polish company Fabryka Samochodów Osobowych. That of course does not fit on any boot lid or grill, so this was abbreviated to FSO. Easy to remember, but forgotten in practice. Perhaps that was also due to the design. Basically, this FSO Polonez was not much more than a Polski Fiat 125P, a Fiat built under license, whose design already originated from 1967. Ancient therefore. A tradition in the Eastern bloc at the time and we, spoiled Westerners, did not expect anything else from car builders behind the Iron Curtain. We were not disappointed.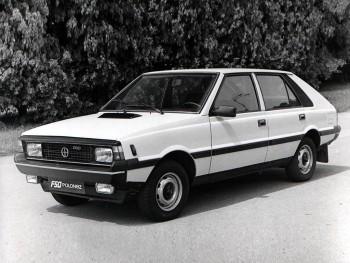 SAFE
But not even if we looked a little further. This bony hatchback, for example, was the first east blocker to pass the tough American crash tests. Mainly due to its passive safety of course; apart from a brake pedal, there were very few active techniques on board this affordable Pole. The thing was so solid that it was a blow to a concrete block with 50 km / h (crash tests were not very complicated) withstood well. There appeared to be relatively little deformation on chassis and bodywork after such a thunderous blow, and that without energy-absorbing zones or other accidental techniques still to be invented. Only rust broke the thing.

TESTED
After all, the technology was also quite bulletproof and foolproof. Almost all subcutaneous technology came from Fiat, including the 1,3 or 1,5 liter large and anything but complicated engines. Moreover, they were already quite a while, the teething problems were out. Not much could go wrong here. And good, too, because FSO had to deal with this in the first instance. The plan to modernize the Polonez FSO with Fiat's larger DOHC engines failed due to ordinary money shortages. Too little of the mud was available for a license. A bit the same fate as the FSO Polonez attracted buyers: they didn't have enough pecunia for a decent car. At least, that's what those who walked around the FSO dealer thought with a big bow. But that was very arrogant. It wasn't that bad at all. Yet?

VARIATION
And also not east-block-hideous. The five-door middle class was designed by none other than Giorgetto Guigiaro. His chimney also had to smoke. Compared to previous products from the region, it was a modern-lined car, less burly than we were used to. There was also some experimentation with a three-door version, but it did not reach the large-scale production stage. The boat: a small series of such 300 items was sold in the UK. The five-door version remained the most produced variant, but during his long career (up to 2002!) Many variants were available: a sedan, a station wagon, a considerably higher freight version and even a single or double cab pickup were included in the price list . And not at the top; its relatively modest price has always been a big plus for this FSO. But also a disadvantage.

IMAGO
He never got rid of his scanty, typical Eastern bloc image. The upgrades of the mid-1980s did not change that either. The tightly pulled rear and the modernized front with some headlights made it even a little fainter than the first version and he couldn't use that at all. The availability of stronger and more modern engines, including those from Rover, and even a diesel variant, did not make it such a guaranteed success as it was in a row that it was named after. Not with us in the west anyway. In other areas he was more successful. In total, just over one million were sold, all the way to China. There he was assembled by Dongfanghong. That just fit on the boot lid.