The Harley-Davidson 750 cc side valves were nicknamed 'Liberators'. In fact, that was wrong. Because the American V-twins were more rearguard than front bikes. They were heavy and had little ground clearance.
But beyond that poetic freedom, the Harleys were phenomenal, reliable motorcycles
Their lifespan during military deployment was estimated in days. Fortunately, that was a misjudgment. The number of surviving copies is impressive. That's also because Harley-Davidson supplied about 30.000 units of spare or replacement parts. And for correctly restored copies, amounts of up to twenty thousand are now paid in Europe. In the United States, asking prices run above $30.000. But there have been fewer to be found there than on the battlefields of Europe. Compared to the prices of new heavy Harleys, that is still little, but there are days when I have less money.
Books have been written about your correct way of restoration and wars have been fought
The most precise assume that a restoration can only be correct if no new reference parts have been used. And 75 years after the end of WWII, those original parts are no longer easy to find. Gone are the days when warehouses full of New Old Stock were found. Recently, a container with black out lighting storage boxes (scrabble!) came on the market. On the other hand, if that war stuff is now fully available as 'reference' from the various low-wage countries. The quality is not always optimal, however. And to the left or to the right: if you want to hoist a WLA or WLC back into battle gear, you really need all that beauty. And that can be quite expensive, because all those green things that are now so hard sought at the time, between 1946 and 1960, were massively disassembled and thrown away as worthless.
Because then such a side valve was just a means of transport
A fairly cheap means of transport. The need for black out lighting and the gun holder was of minor importance at the time. In the early sixties the prices varied between fifty and three hundred guilders. Shortly after the war, the now much sought-after V-twins were still valued transport for people such as veterinarians. By the sixties, however, the status of such a Harley had descended to transport for students and apprentice concrete weavers with ambition.
But even in those days there were people with a heart for the business
They invested according to their taste and possibilities in their side valves. And the green fashion model makes it more than clear how to handle your Harley in such a way that all the girls from the street/town fell pining for you. Where we now see our fashion model shivering like a very strange pastry, someone must have been very happy and proud there once.
Originality is an asset
The hunger for factory originality has never been greater among Harley riders than in BMW circles. But as mentioned, we are now in an era where a correctly restored WLA or WLC is preferred by collectors (and investors).
This makes such an exuberantly 'civilized' Harley-Davidson WLA or WLC undeniably an engine that may not be factory original, but it is purely time-original. And from our point of view, that doesn't make it any less desirable.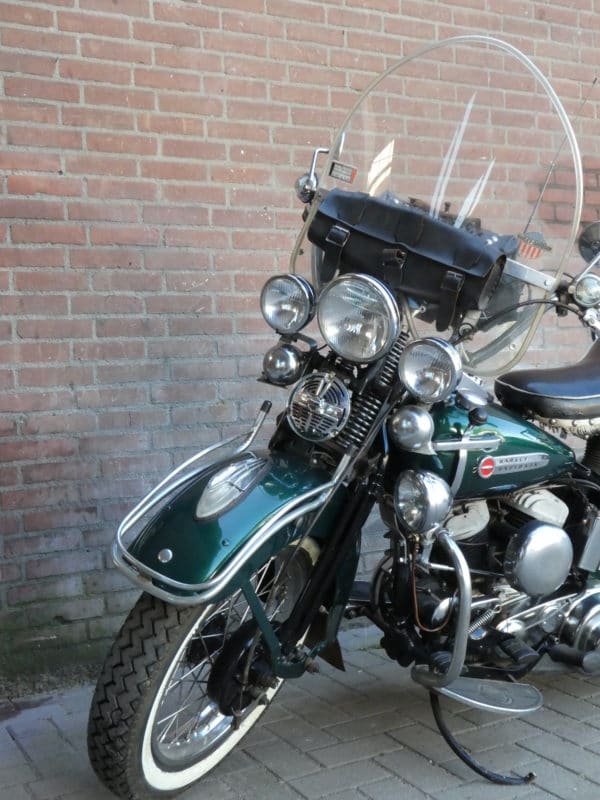 And now this is approaching the new ideal