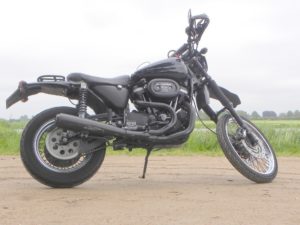 A tribute to a tradition. And now for the 4 time again: King DIY Building Day.
This day is again entirely devoted to self-build engines and their owners. Builders can show their creation in our showroom and there are airbrushers, pin strippers, suppliers of accessories and other companies from the motorcycle and construction industry. And that is at MotoPort Hengelo (Ov)
And the DIY machines? Almost all of them are still based on understandable technology, they are almost all instant classics that bear witness to the dedication and passion of their builders. And often a hefty dose of nostalgia *.
And the day itself? It feels like an engine encounter from forty years ago (we heard).
Come and see!
Next Saturday. At MotoPort Hengelo (Ov)
* the motorbikes in the pictures are just a few examples from their own circle of acquaintances. The red caferacer and the Harley are for sale due to back problems from the various owners. The Sachs Diesel is in Genemuiden, with Richard Busweiler. It is not certain that these engines can be seen in Hengelo. But there are more than 20 other self-builders.