Auto Motor Klassiek is also on iPad en Android available. It is at least an exact copy of the paper edition, but can and will contain more and more multimedia content. If there is an update of an already purchased copy, you will of course receive a notification and you can simply download it again for free.
[purchase_link id = "229950 ″ style =" text link "color =" "text =" Order as PDF (€ 3,99 instead of € 4,99) "]
iPad can be found via this link
[Dhvc_woo_product_page_images]
A not too elderly, solid classic to make long and carefree journeys from time to time, then soon a Volvo or a Mercedes-Benz come into the picture. However, what about the efficient space wonder that Audi 100 hot? We are referring to the C3 generation, also known as Type 44. Surprisingly interesting, this alternative.
There are few 1946 vehicles that radiate such impressive grace as the Buicks of that year. In terms of model range for the civilian market, the war years of 1942-1945 had a major impact. But Buick scored in 1946 with a reborn pre-war model. What was achieved with limited resources was impressive and had an exclusive appearance. Top!
Aermacchi Ala Verde 250: In the past… People used to be significantly smaller than now. And Italians, they were usually very short-sighted people. Then we're not going to be silly and quote from Randy Newman's 'Small People' or something. But in the fifties-sixties, a full-grown Italian man of 1 feet tall was not a dwarf, but a representative Southern European. And that explains the size of the beautiful Aermacchi's.
Beautiful were the times when creative ideas were not yet nipped in the bud by safety and environmental requirements. Small bodybuilders created their own banner, as OSI did with the 1200 S Spider and Coupé, known in the export as Neckar St Trop. We got a survivor in sight of Martin Willems, originally Dutch.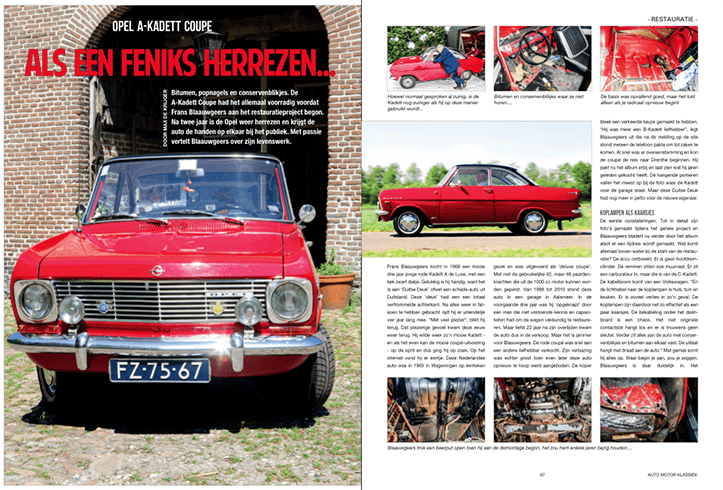 Bitumen, pop nails and cans. The A-Kadett Coupe had it all in stock before Frans Blaauwgeers started the restoration project. After two years, the Opel has been resurrected and the car gets its hands together among the public. Blaauwgeers talks passionately about his life's work.
With the silver gray Suzuki GSX 1100 Katana, the name of which was borrowed from the legendary Samurai swords, the Japanese motorcycle manufacturer from Hamamatsu put the knife in its somewhat boring reputation. That was in 1981. The new Suzuki was a milestone in the design of motorcycles and a leading superbike. The Katana kicked off a whole new generation of dynamic, sporty motorcycles. For the first time, the shape of a motorcycle was no longer approached in the traditional way, but as a design-technical feat.
Driving the Ford Galaxie 500 V8 Hardtop and the Chevrolet Nova SS Pure experience. Thijs Lodewijks and Albert Meijer from Cars, Cola and Coins promise it in optima forma. We are visiting the young company, which has created a pure experience of everything that has to do with America of the fifties, sixties and seventies. When Lodewijks and Meijer offer us to ride with one of the many American exotics, which cover the grounds of the beautiful and young Frisian company, they know for sure: "The Ford Galaxie is such a car that has many American characteristics. unites. "
Concorso d'Eleganza Villa d'Este 2016: The annual concours d'élegance on Lake Como is quite exclusive. Participation? By invitation. Visit? Also by invitation. Don't expect pomposity or prickly and stiff stuff though, because it's a great event. Our tip: make sure you are there!
The credo of this fifth edition of the Alzheimer's Rally reads 'Riding along is helping'! And again good response has been given. Many an organizer would rejoice in such a complete field of participants. Professor Philip Scheltens, director of the VUmc Alzheimer's Center, is also happy, because the previous four editions brought in 171.500 euros; this fifth edition earned 69.000 euros. Money that is urgently needed for the in-depth investigation and possible fight against this terrible disease.
Eleven city tour: It hows mar trije nights and days to fry each other on Frisians yn ús lân, and just all the Frisians turned mad. We hawwe it then oer the Tour of Tours, the Alvestędentocht. On reason. Der binne sels guons minsken dy't dan it Frysk leare. To get yn fal fan need to ręden mei it Frysk fan the local ynwenners. Jo moatte ommer's wool is white where it pours. Tink mar oan dy advertising werby ien besiket as it iis hâldt; in taskôger neither "It just knows" and "crack", he pours cup under… Fryslân has to offer fansels mear on Alvestędentocht. The alve cities of mad on 'fyts, as a stroll, rowing, may the autped (!), Mar ek may the oldtimer! That was what ha wy serve. On March 7. (Translation: see AMK)
Ascension Day and Liberation Day coincided in 2016. That fact is rare. It Oldtimer festival in Hoornsterzwaag is, however, an annual phenomenon. A colorful spectacle that took place this year in a particularly pleasant and sunny atmosphere. The weather gods were good for the visitors and the organization. And the countless participants in the Oldtimer festival also came to Hoornsterzwaag with beautiful intentions. They brought together a beautiful collection of classic cars within a varied collection of activities. Classics that absolutely appealed to the enthusiast.
Auto Motor Klassiek has plenty to report every month, current news, useful tips, events, you name it. Includes monthly columns such as 'tied up', Maria's column and our youtube section. But nowadays also the regular column with technical and practical questions from readers.
Every month, our readers' section is full of reactions from readers, discoveries they made on (distant) journeys, or corrections to previously asked questions.
Rally news, news about Motorsport. Auto Motor Klassiek has a separate news section every month that covers most aspects of the historic motor sport covered
Vintage cars for sale, Young timers for sale, Classic engines for sale. You will find every month in Auto Motor Klassiek thousands again classics for sale.
I don't like to moan. In my mind I already hear my children say: "Who would have thought that…" because they think that I am constantly or very often whining… And so everyone has their own opinion. Still, you wish some people would keep their opinions to themselves more often.
In the past, when I wasn't whining at all except for ice, there were sometimes those wonderful surprises. Then at about four o'clock my father said when I came back from school: "Are you coming?" "Where to?" "To Amsterdam." And then I knew it. It was time again for the AutoRai. A great event. We drove in the 220 D towards the end of the afternoon to the Rai complex in Amsterdam. We bought tickets from the cigar farmer near the Rai. That was kind of a 'secret tip' because then you could walk past the queue in front of the counter with your ticket. How important I felt!
That good feeling was further enhanced by all those brand-new, sparkling cars that you then found. Special cars too. Ferrari, Aston Martin, Jaguar, Rolls-Royce, but also Reliant, Triumph, MG, and so on. Cars that you did not come across every day in Ulft, (gld), or never.
Well and in the evening - I had to be in bed for a long time - we would drive in the dark of the night, lit up by neon signs and between numerous cars glittering in the light of the street lamps, from the big city, back to the now peacefully sleeping back corner. It was a wonderful experience every time. No wonder that the name Rai generated a purely positive feeling in those days. 'Aber das war einmal'….
The opposite has been true for years now. The Rai has become one of those many organizations that try in all kinds of ways to make the life of the car owner miserable / expensive. Recently by throwing up the road pricing ball again… What are these people thinking? Do they really think that someone will benefit if the government registers every kilometer of you and starts paying you per kilometer? On balance, this will be a mega-expensive project for which the motorist will pay the bill. And that bill will be much higher in 99% of cases than it is now. Only the few who only have their car to drive 20 km to grandma every Sunday will perhaps get a little cheaper. But you might also wonder whether grandma is worth that much money ... So grandma is alone all week, if only because of road pricing.
Road pricing will never replace what we have now ... but at most it will be added to it as soon as 'public support' has been created by merciless 'Postbus 51' propaganda ... "Pay according to use, blah blah, an excellent management tool for to push back, blah blah "says de Rai. Literally translated: Get them out of the car by making it incredibly expensive… And then the total lack of privacy. How is it possible, and that of the Rai…? Really, sometimes you HAVE to moan!
Subscribers have Auto Motor Klassiek a week earlier in the house than the kiosk visitor sees him on the shelves. EARN YOUR ABONNEMENT NOW BACK Your advantage as a subscriber:
Advertise a classic in color for FREE in Auto Motor Klassiek
Auto Motor Klassiek a week earlier at home
Only € 3 instead of € 4,99
You can subscribe online by right here to click. So you can respond much earlier to one of the THOUSANDS vintage cars and young cars in monthly Auto Motor Klassiek for sale stand.