Monica and Ted Martin. Does that sound like a happy couple or not? Well: "sort of ..." Monica was a very luxury brand from France. The last French attempt after the Facel Vega to bring France back to the automobile top.
Jean Tastevin was the brain behind the car. And the name of Jeans woman was…. Yes indeed.
These Monica's would be equipped with the small aluminum V8s that Ted Martin had devised for use in F1. In a somewhat later phase, however, Tastevin opted for 'ready-made' Chrysler engines. This is because the engines now produced at Rolls Royce had some annoying peculiarities and because Rolls Royce did not want to give a guarantee on the V8s that they produced, but had not designed themselves.
Not many of the Monica's and Martin V8's have been made and sold. Of the Marin V8s, there are a handful, a handful. a few ..., ended up in the rally world.
Allegedly the small V8s would have fitted Ford Escort bins in this way and there would have been just suitable engine mounts. That conversion would have happened three times ... And in England the owner of one of those Escorts has been searching for decades for a block, preferably the 'original' block, of which he has the numbers.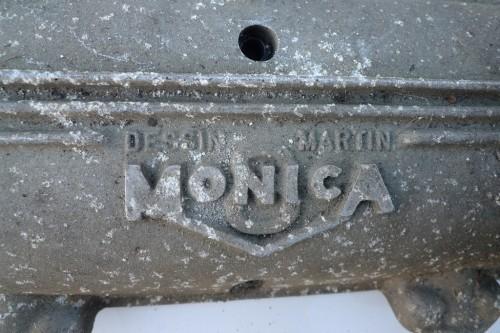 And recently one of our readers was approached by a man who had an old speedboat with a broken V8 and a spare block in front of it ...
And so two Martin V's appeared again ...
And one of those blocks? He has been in the escort of our searching Brit.
And now it becomes exciting: The owner of the Escort wants the block. The owner of the block wants ... The Escort.
To be continued