Don't choose. That is perhaps the correct name for the tapping on the fingers that Daimler AG boss Dieter Zetsche has now handed out to Volkswagen a few times. In connection with the diesel gate, he said that VW was doing the car industry a disservice and indirectly lashed out at competitor Audi, VW daughter since 1965. Zetsche is involved in a premium rat race and wants to continue storming the luxury heaven with Mercedes-Benz . He does a lot for it, because recently Zetsche - not long after the death of VW - very nobly stated that there was indeed a future for the automotive industry. He, the man that's right. He, the self-proclaimed talisman in auto land.

According to Zetsche, scandals are excluded with Mercedes-Benz. But the Daimler-Benz CEO apparently recently felt a cautious shower again. Because Renault's diesel software also ended up in the dock. What does that have to do with Mercedes-Benz? Well: in certain Mercedes-Benz models, the DCI engines from Renault have found a place in the front. And therefore the diesel gate theme could also cast a dubious shadow over the smaller Mercedes Benz models. Because once that ball starts rolling ... .. In mid-January, Zetsche therefore opted for a diversionary maneuver. He kicked the VW group down and thus indirectly read competitor and Volkswagen's daughter Audi the lesson.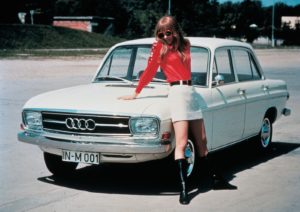 Countrymen were never friends
Audi and Mercedes-Benz. Traditionally, German brands have never been friends. Not in the years that Daimler Benz owned Auto Union. Not even when Daimler Benz saw to it that the avant la lettre premium volume market was successfully processed by the daughter sold to Volkswagen, which was renamed Audi from 1965. The sale of Auto Union meant a bold line through the potential of the loyal customer base of the Ingolstadt group. The child was thrown away with the bath water. And the Baby Benz of the sixties ran under the auspices of Volkswagen as "Audi" of the band. The Audi turned out to be a resounding success from the outset. And Audi, led by former Daimler Benz engineer Ludwig Kraus, gradually developed into a major competitor of Mercedes-Benz. Only in 1982 with the formidable W201 did that have a suitable answer within the market area that is currently known as the "premium D-segment".
Mercedes W123 example of correct politics
Audi and Mercedes Benz crawled closer and closer. Today, together with BMW, they are competing for the highest sales location on the global premium stage. But if you want to be the best and most selling, you don't have to give others a hand. The best lesson for Dieter Zetsche dates from 1980, when Mercedes-Benz led the German sales ranking with the W123. By building high-quality cars that were beyond doubt, an astonishing sales success was naturally created for Mercedes-Benz. By starting from one's own strength instead of including the failure of others within one's own PR strategy. In addition, Volkswagen has long and wide made a deep knee and it goes through the mud. Top executives have stepped up and precautionary measures and substantial financial reservations dominate the news.
Ticks and pin pricks in men's suits
But Dieter Zetsche thought it was still necessary for a while to publicly address Volkswagen - and thus competitor Audi. That happens more often at Mercedes Benz. Both nationally and internationally, it sometimes has the tendency to label Audi somewhat derogatory as a "kind of luxury Volkswagen". Such matters do not fit with the beautiful historical values ​​and status of Mercedes-Benz. Dieter Zetsche has rendered Daimler AG and Mercedes Benz in particular a service. A very bad one, that is. He's been handing out nasty taps and pinpricks. And then it doesn't matter whether it happens in a men's suit or not.