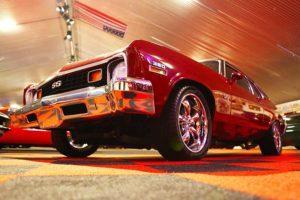 3 Eight cylinders. A story about a Ford Galaxie 500 V8 Hardtop, a Chevrolet Nova SS and an impressive Buick from 1946 ... The last one, by the way, does not have its eight-cylinder V-shape. He has no V8, but an eight-in-line engine. Does not matter. It sounds nice too. They are in AMK number 7.
If it is gray and gray outside or if it is the ideal terrace weather, then fat Americans are fantastic things to dream about. Driving in American Steel is a mild religion and our own columnist Maria Pels is an active prophet of that spiritual movement in which the eight-cylinder are the saints.
The cars in this AMK stand for lazy travel on endless roads, the USA show factor and the brutal violence. How was America ever better summarized.
Remains that old Yank tanks are very reliable traveling companions, that the parts are well-stocked and reasonably priced and that you can find such a car very easily in every parking space. Whether it is a Buick, a USA Ford or a Chevy ...
And that such a full sized American with 500 hp under the hood invites kewl cruising rather than greedy erasers like you can do with a Mini Cooper or Autobianchi. That saves nice weather fuel.
An American car already makes such an impression because of its appearance that it can always take it easy. And that in turn is very sustainable.