From 11 to December 13, Waregem in Belgium is all about the Oldtimer Event. For the first time, the event takes place at the Waregem Expo in the 37.000 population in West Flanders. The prospects for the enthusiast are excellent. The organization has succeeded in putting together an attractive offer.
"Beautiful cars in a high-quality vintage atmosphere"
Among other things, the event focuses on milestones in motorsport and the history of the car. The main focus of the Waregem Expo event will be on the sale of exclusive cars. Automotive art, vintage furniture and automobilia are also available to the visitor. The organization indicates that the whole will be exhibited in a retro framework where the love for the automobile is central. Event manager Pepijn Decorte expects a lot from the debut version of the Waregem Oldtimer Event. "All stands are provided. And we were able to snare beautiful cars. We did not want to exhibit it in a cold hall. We have ensured that the whole is exhibited in a high-quality vintage atmosphere. "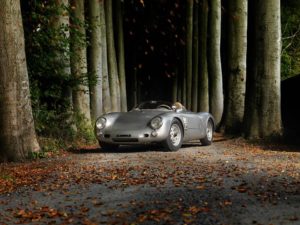 Beautiful exclusive offer
In Waregem, exclusivity within the commercial offer is central. Beautiful and rare cars are offered during the Oldtimer Event. Examples of exotics in the range are a unique Chevrolet Corvette from 1954, a BMW M3 from the Baureihe E30, a Porsche 550 Spyder, a beautiful Mercedes Benz 300 SL Roadster, a Ferrari Testarossa and a BMW M6.
Nice vintage attributes for the mancave
Waregem also offers the necessary in other respects. Those who want to provide the "mancave" with the necessary vintage attributes can also go to Waregem. The tire pressure station of M. Muller de Paris is unique. Other items - such as historical packaging material for liquids and promotional material - will also be offered for sale.
BMW M1 Procar from Niki Lauda
A visit to Waregem is also worthwhile in another area. The visitor comes face to face with a unique BMW M1 procar, which was driven by Niki Lauda. It is just one of the special cars, with which "Waregem" gives a wink to the automobile racing past.
Opening hours
The composition of the Waregem Oldtimer Event promises a lot to those who are planning to visit the West-Flemish city with a visit. The event is open on Friday 11 December 2015 from 13.30 hour to 22.00 hour. On 12 and 13 December, the audience is between 10.00 and 19.00 hours on Zuiderlaan 20 in Waregem. The city between Ghent and Lille / Lille is easily accessible by train and car (take the 5 "Waregem" exit on the E17).
More information
If you want more information about the event in West Flanders then you can here click. You will then be taken to the Waregem Oldtimer Event website.