Verkeerd afgelopen. In a real, old-fashioned car graveyard. Not even in a distant country, but just here in the European province of the Netherlands.
The company once started as a car scrap yard, became a garage, moved.
But the cars on the old demolition site stopped. For decades. Whether they can now be restored? Do not think so…. This is really what you call verkeerd afgelopen....
But whether they can function as a donor? There is still plenty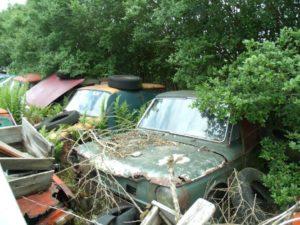 useful stuff at. So maybe not entirely verkeerd afgelopen?
We are currently speaking with the owners. But it is almost certain that we can make a real report of it.
Including the possibility for AMK readers to be able to buy there. So buy. Don't wander around for hours with a camera for the belly and a dreamy look in the eyes. That is what makes the site owners and the herding dog very nervous about that kind of people.
To be continued