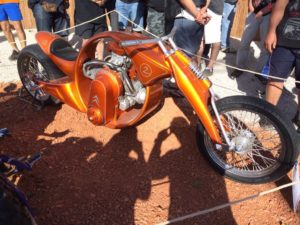 The fact that nowadays self-building projects are done on a motorcycle is great. The fact that mainly older components are used for this is self-evident.
Because no matter how talented a builder is, tampering with on-board electronics is not everyone's 'cup of tea'.
That's why we can make a smile for the motorcycle in the photo. And let's be: there are still
enough 2CV blocks to be able to do something crazy with it.
Be careful when doing crazy with 2CV blocks if you want to make a kitcar based on 2CV. For that type of vehicle, the 30-30-30% rule applies to be allowed to keep the original registration number.
The percentages are then about chassis, engine and body. And then the devil comes: With more than 1 Ugly Ducks engine revision company, it is customary - after revision and as a company internal reminder - to screw the block nameplate back half a turn.
The sensible approach is apparently estimated by the RDW as a replacement for the original engine block. This means that the end result 60% is not original and can therefore never get a license plate ...