Converted bikes are timeless. And they were never created by bearded trendsetters, influencers and geniuses. Motorcycles were usually built out of genuine poverty. The block was broken. And there had to be something that was running, available and affordable. How nice the Lilac with VW block that we once saw was. The phenomenon has also been present in Russian sidecar combinations for decades. Because the engine blocks (and some other small stuff such as gearboxes, wheels, brakes) were seen by quite a few people as sub-modal in quality.
But everything can be improved, and in anticipation of a story that is in the planning - you already have such a dirt cheap Subscription op Auto Motor Klassiek? - we praise a way of approach that brings 'building yourself' to a whole new 'level'.
Try a Guzzi block
But for this story we found a very nicely made 'bitza'. A Russian with an Italian heart, the V twin of a Moto Guzzi V65. The result is not an endearing bastard, but a combination that looks like it came straight out of the - or 'a' factory. And that would certainly not be an ex-Soviet factory.
Peter Knol, a passionate technician
And so we come to Peter Knol, a man whose life is intertwined with Moto Guzzis and the Moto Guzzi Club. Peter is a man for whom the term 'techie' is a nickname. He devises mechanical transport and positioning options for parts in the manufacturing industry. In short, this means that parts flow into the production process in the correct position. These solutions are not found with heavy 3D software and large screens. Peter physically gets his hands on the part to be transported and his first two days on that new project can simply consist of looking, tilting, thinking and some pushing and sliding.
Viewing and estimating things has become second nature
And so a Moto Guzzi 650 block that Peter had lying around seemed to fit into a Dnepr he had seen. To check the fit he went with his 650 NTX (?) To a dealer who had a Dnepr. The Guzzi wanted to exchange it. But Peter had put the machines side by side and watched. He knew enough: It was going to fit.
With the genuine open-mindedness of a true techie, Peter happily reported that just about everything fitted almost perfectly. To then list entire rows of modifications that made things really fit. For example, the cradle frame had to be spread four centimeters to make room for the wider crankcase of the Guzzi. Making and putting the connector between block and container in 3D was also explained earlier than done. Matching the Guzzi clutch and the Dnepr gearbox (the semi-automatic clutch took some getting used to for Peter). It was a patience job 2.0
Cut manifolds
The suction manifolds were cut to position the Dell'Orto's to leave room for the starter motor. The Moto Guzzi V7 tank fitted almost instantly and better than the original Dnepr tank. All it took was some grinding on the front, bottom, back and frame and some welding to the frame. The fenders (including those of the sidecar) used to be a lot of attention and they were also matched in curves. A piece of a hopeless V7 mudguard was used as a donor for the sidecar.
The fender brackets on the front are also Guzzi and the headlight of the 1989'er Dnepr with its one counter plus the famous tin can also went over the shoulder. More LEDs were added to the headlight housing than they could ever have dreamed about in Kiev. In terms of lighting, there is more to report that would make the average Russian apparatckik shudder: The rear light housing started its life as a toilet brush housing. The lamp holders are nice from TVS and the problem was to find a housing in which the LED rear light units from the classic car world could fit.
In terms of bicycle technology, the case has been kept largely original
Peter has only made a deep investment: His combination now does not have Russian, but round wheels. The curves of the exhaust system are drawn by Peter and curved at Startwin. The dampers are universal with a brave hum as standard. The front fork has been overhauled.
And that a Guzzi can also be a bicycle donor? The Guzzi proves that with Peugeot diesel block from Nanko. Nanko is another doubly talented technician. He converted his machine as a residential work bike into diesel so that he was even better off with his kilometer allowance. Nice is not it?
On the other hand, there is the approach of Jan Keijzer who changed his Guzzi with Guzzi stuff plus some extra into a Moto Guzzi with the inlet side at the front of the block. This was not so much of an economic approach, but was done because it could. That's how we called a set of self-built motorcycles that are all made at a purely factory level or better. But don't let that put you off.
The bar can be a bit lower
As a consolation: even if you are not super talented, but just handy and have some acquaintances who can do things that you cannot do, it is best to go into construction yourself. There is a lot of space at the RDW, especially if you start with a basis from before 1975. Because after that the type descriptions are annoyingly clear. And that can also have consequences for the insurance.
And then just drive on to Italy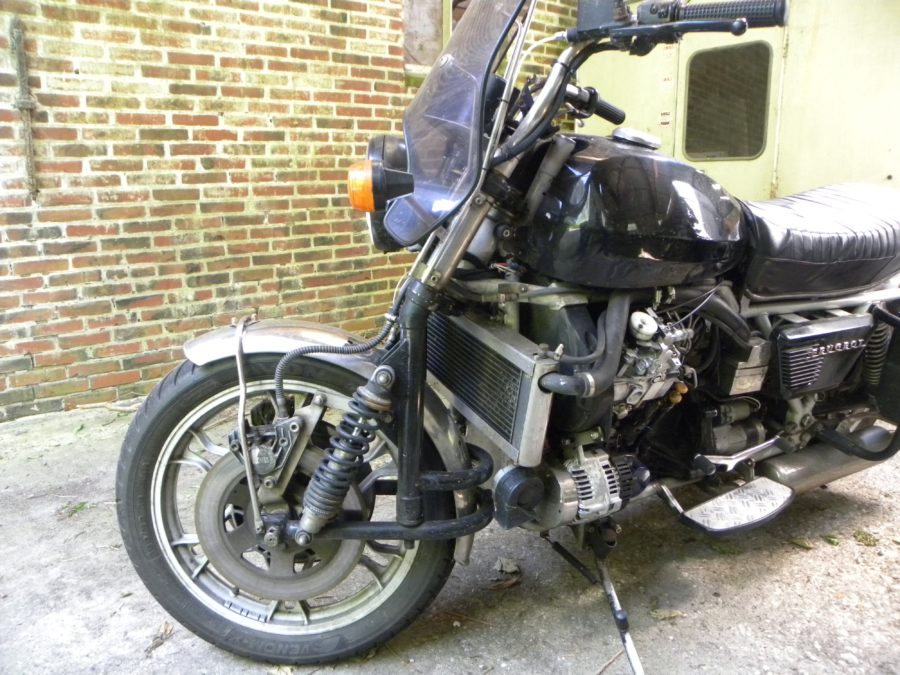 The 1900 cc diesel from Nanko
A Yamaha block in a Laverda bicycle section
Low budget as in almost no budget
Jan's twisted heads. And of course revised electronics. Because while you're at it ...
A Yamaha XS2 on license plate. With converted speedway block, Norton gearbox etc. etc. Also made by a Jan.