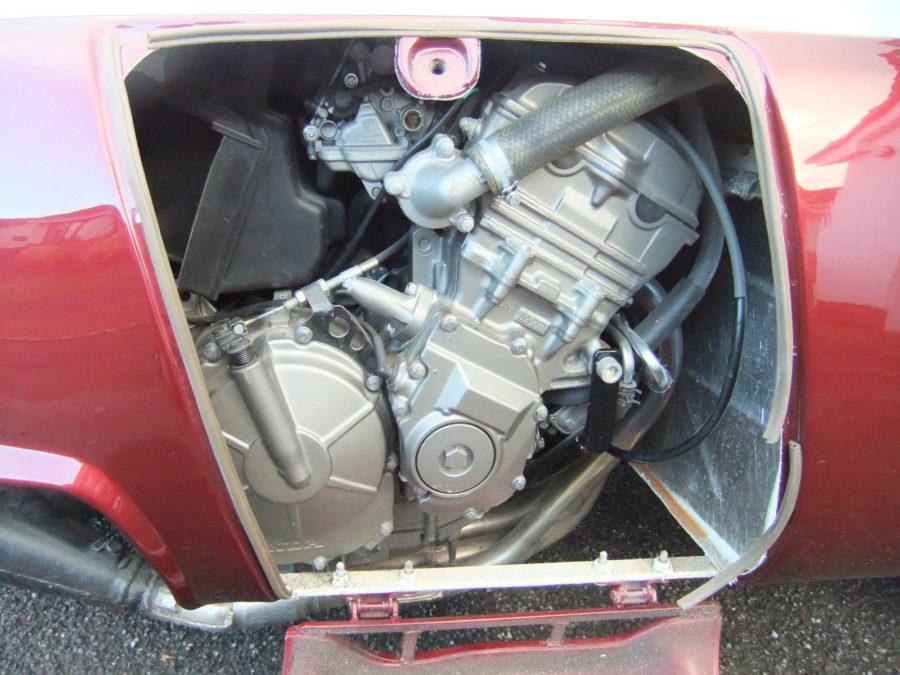 On the way with the Austin Mini Cooper, firmly (…) by 'pedaling' - there may be driven 100 kilometers per hour on provincial roads, unless otherwise indicated - of those wonderful British roads, the editorial team is overtaken by a BMW Isetta, which then - next to us - still switches to the next - later turned out fifth - gear ... The cart disappears on the horizon. Cooper and crew have it checked.
At such a moment you see water burning. Still just a little extra, but no chance. Fortunately we see the cart a little later in the town of Ringwood along the road. For a shop. The - beaming - owner wants to enter that little shop. "BMW Isetta Mini Cooper: One NillHe shouts from the open shop door. There is no French word for that. Well, then the monkey comes out of the sleeve. The 61 year-old owner John took 15 years to not only fully restore this Isetta, but also to adapt it to his taste.
The standard engine has had to leave the field in favor of a Honda 600 cm3 engine coupled to a sequential five-speed gearbox ... Hence. He has never fully kicked it out and is at its fastest up to 90 miles per hour - then it is almost 140 kilometers per hour! - come and leave that challenge open for the next owner. At top speed, it was, considering the speed, not nearly at its end ... Happy - but what is happy? - he has carried out all the modifications in such a way that the trolley can be very easily reconstructed to the specification as it carved out the factory in 1961 (...) ... We can assure you, after this pleasant maintenance, confidence in the Mini Cooper was restored . However, it remained the conversation of that day ...
Photo: Fortunately the BMW Isetta had stopped in the next village ...