The originality of our classics? We attach great value to this. After all, it is a matter of honoring the past. Nostalgia too. And 'value'. Fortunately for 95 +% of our classic motorcycles it can be traced how original it was.
Original or not?
The fans of Harley-Davidsons and BMWs have the advantage. Because everyone knows that every Harley is unique. Because everyone from the perfect administration of BMW and entire armies of brand purists knows exactly what kind of bolt should be on a BMW. And what if a $ 30 / piece for used bolts for an R69S has to be paid? Originality down to the details comes first. Whole wars have only been waged over the thickness of the tank demolition. And that while there was a fairly simple explanation for that: The confusion was pulled out of control. So the lines were always 'as good as possible', but in practice 100% was never defined in width.
"They did something"
The case is clearer for Italian and English engines. Within types and production batches, substantial differences already occurred 'ex-factory'. That was because Italians and British - often for financial or logistical reasons - often just used what was there was available.
Nevertheless, the documentation on Italian and British motorcycles has been recorded as well as possible on the basis of a great deal of loving research.
Factory or time original
In the context of original, we are still dealing with 'factory original' or 'time original'. Because there were – certainly in the seventies – handfuls of motorcycle buyers who happily fitted their 'new' motorcycle with four-in-one pipes, 'lop-eared handlebars', fantasy paintwork and Lester or Melber rims.
When the motorcycles from that time became 'classic', everyone walked around with curves around these 'remodeled', not 'original' motorcycles. In the meantime, they are making a cautious advance. Because in their non-factory original looks, they are very original expressions of an era that has been behind us for a long time.
But 'fortunately' there is enough left over to worry about. Because 'original' remains a thing. More than a thingy. Certainly because it depends on whether or not its price tags are original.
Doubts remain
For example, we recently heard the story of a Norton. A Mercury SS or a Domi 99? And how original was it? We have seen the engine and find it beautiful and 100 greedy. For a non-Norton connoisseur, the machine seems completely good and original and has a heart-warming patina.
Yet that Norton is currently the subject - or direct object - in a widely supported discussion within Norton circles where all participants show their best sides. Because is this twin now original or is it at best a beautiful, old 'restoration' or a tasteful combination of non-related parts?
The intermediate score is in any case that the Norton is not one that simply fell within the well-known production of the 99 series. For that there are numerous details that do not conform to the well-known Nortons. But the engine looks so real, so original that you would want to adopt it on the spot. And somewhere in the discussion it has already been indicated that we 600 cc Dominators with a metallic green frame.
For collectors and purists, a traceable, recognizable factory originality is the Holy Grail. But for lovers of motorcycles in their purest beauty and for people who see patina as the highest good?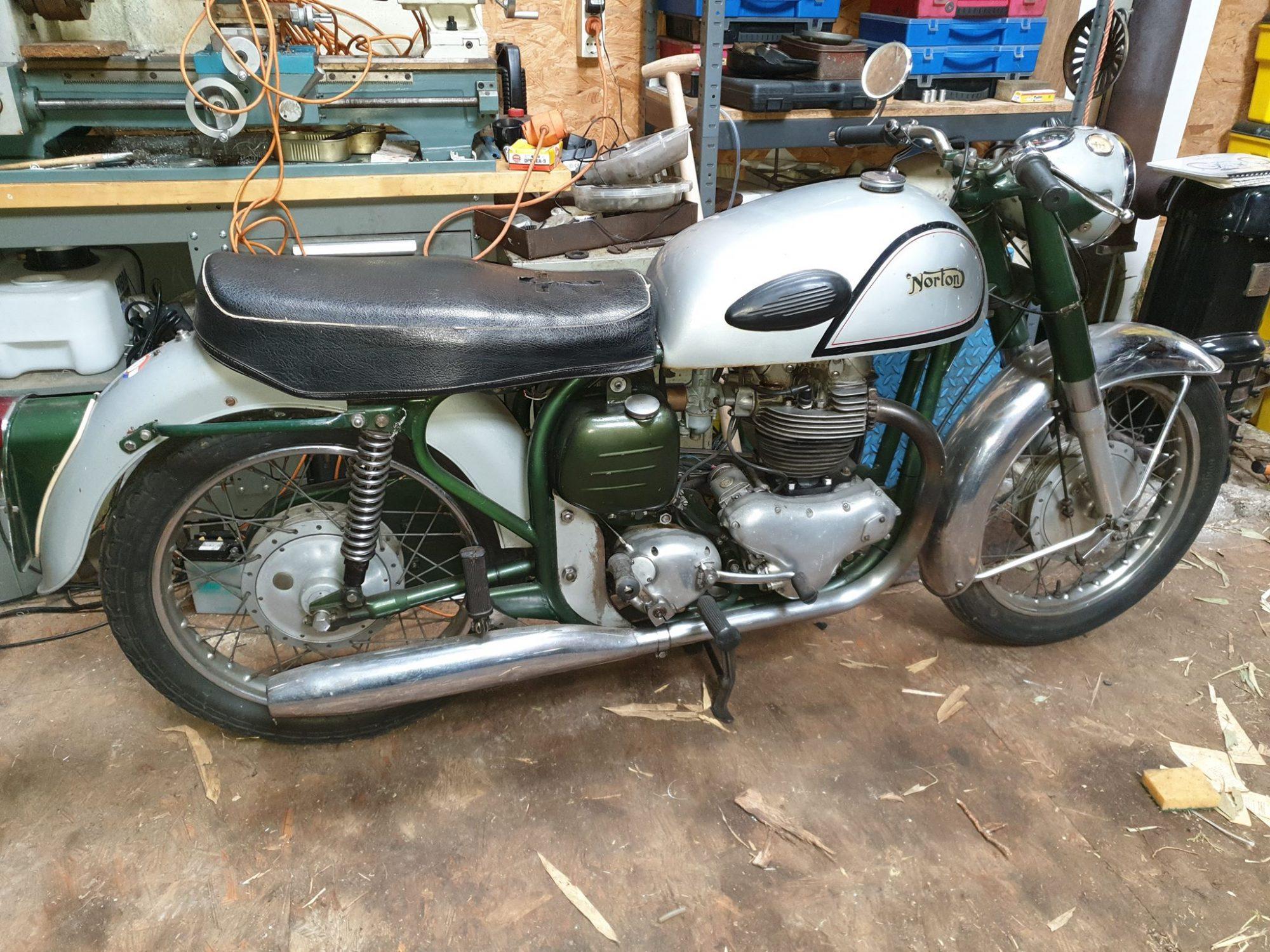 Time original