"Operating temperature" is a relative term.
Because at the temperature at which this machine works optimally, your own USA V8 has long since given off, no matter how tough such an animal is.
This V8 hot rod grill knows how to handle tough animals. If you take a few hours to barbecue at a low temperature, then some of the more resilient meats will usually become so accommodating that it is like an ointment.
But for the Real Hot Grill work, this BBQ with its temperature meter is of course also suitable.
We found the show model during a (successful) search for a new wood-burning stove at a specialist stove Wichink Kruit in Zutphen, a company that has been a stove specialist for thirty years and now has customers all the way to Den Helder and Sittard.
If you want to have a stylish BBQ this weekend and baffle your neighbors and friends: The show model needs to be polished, the outdoors has it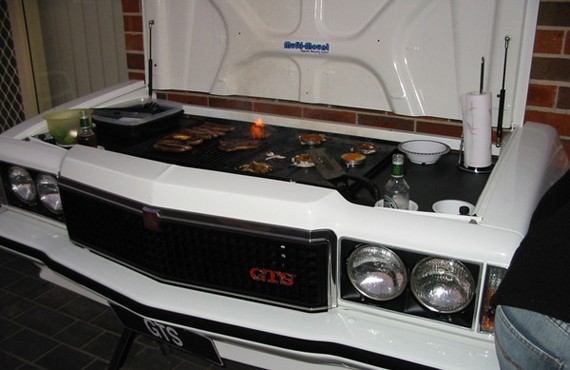 block given some patina, and costs euro 599, -. There is still 1 fresh BBQ V8 in stock. It costs 899, -
We just pass it on.
Despite the fact that it can of course be even rougher ... If you want to sacrifice at least one Half Holden for it.
www.stoveswk.nl