The last word has not yet been written about the originality of classics. There are people who go for 'factory original'. There are those who appreciate "time originality." That is a somewhat emerging trend because the prices of quite a few factory-original classics have become quite stiff.
And what could be more original than a Honda four-cylinder OHC machine with exotic depictions/landscapes injected into template color parts, a 'lop-eared steering wheel', a Giuliari buddy and a Marshall four-in-one whistler pipe?
In their time there were quite a lot of buyers who bought a new motorcycle, but wanted to give it their own home scent when buying or within a year. Trade played into that. There was a massive range of alternative parts and many motorcycle stores had just a few sets of custom painted color parts in stock.
Now (almost) acceptable again
If you respect such a machine for what it is, you can have a lot of fun and a lot of attention with it. Only that open pipe through which the four-cylinder exhales will be a thing these days.
If you want to bring such a 'customized' engine back to original? Then that will cost you. Think of € 4.000+ for a (replica) exhaust system, something like € 1.000 for a (replica) tank, € 750 for an original – or € 250 for an imitation – buddy. €300 for a set of side covers without decals. And those are just the 'must haves'.
We're just doing something. Also nice
There was – and is very careful – the trend in which the owners simply went their own way because they simply could or because there were other 'moving' reasons. To bring it to the present: Due to an ankle injury I had starting problems with the - not so highly compressed - Ural 650 OHV. In addition, I noticed that the time before that I was no longer proudly driving at the head of the traffic jam with 36 hp. Fortunately I still had the spare side valve block from my previous side valve.
Then we're talking about a compression of something like 5,6:1 and 23 hp from 750 cc. With the installation of that block I killed two birds with one stone. I was able to start again and I rode proudly in front of the traffic jam again. A Russian IMZ/KMZ side valve from the early 80s just fits the body and chassis of a Ural from the 90s-2021s (and maybe even in a 12'er, because there are still new Urals for sale ). The electrics also went from the decadent 6 to a rustic XNUMX Volt.
Upgrade 1.0
Because the Russians hadn't fully thought about it, a manual control was also devised to engage reverse gear with a poker, from under the tank. Another Russian thing is the connecting hose on the lowest part of the tank cheeks. That always gives a lot of mess when the tank has to come off. The distinctive, very classic-looking, Ural tank came off. And of two Dnepr tanks (also fit Urals) one was made with two petrol taps that put an end to all the mess with petrol. You can buy all kinds of new Russian parts at Rolpa, but I still had two carburetors with experience. Somewhere in their vague past they had been mounted too tightly so that the mounting flange was 'hollow'. The flanges were smoothed the old-fashioned way with sandpaper on a glass plate. It didn't matter that the glass plate was used daily as a 'garden table'. The now nicely smoothed carburetors no longer suck in false air and when I have my new carburetor gaskets in, the boxer should again run smoothly at no load and deliver its full 23 hp.
Details…
And that in the meantime some practical changes have been added to the Russian philosophy? Oh well: technically the mufflers had to be moved back a bit and the new wiring system for Dummies still requires some aftercare. Whether the result is classic or original? During an oil level check during the first test flight, a mother spoke to her toddler: "That engine is very old. The bright girl considered the matter and concluded: 'That gentleman is also very old!'"
Read also:
- Original or not? Nice and important
- The problems of the last year: Ural
- The Ural and Dneprs: risers with a dot
- More stories about classic engines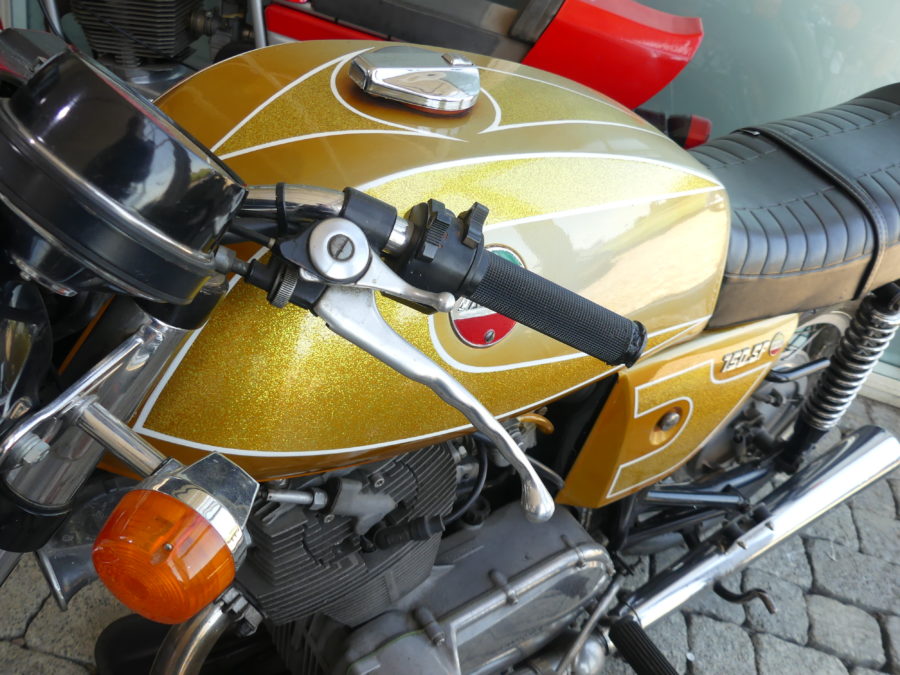 From 650 cc and 36 hp to 750 cc and 23 hp
They should have come up with that themselves
Ergonomically better: Manual reverse gear