Volvo came into existence when the world's largest ball bearing manufacturer SKF decided in 1927 to also build cars. Ball bearings also gave the name of the new member: Volvo means "I roll". An article about the Volvo P1800, 1800S, 1800E and 1800ES.
The brand soon had the good reputation it still has almost a hundred years later, but "sporty" was not one of them: Volvo built rock-solid driving machines that invariably beat the competition in longevity and reliability, but they were a bit, well, a tiny bit boring.
That changed considerably in 1956 with the beautiful Amazon, which was soon renamed 121 after legal threats from the German two-wheeler manufacturer Kreidler. The Amazon, because that's what everyone kept calling it, served as the technical basis for the PV544, with which the "Swedish Volkswagen PV444 'cat back' got a more modern version.
A sporty child from decent parents
But it remained a decent family coach and business car, that Amazon. In 1961, the sporty P1800 saw the light. That should appeal to a whole new kind of customers, the buyers of the sporty coupe based on a sedan. It would become a typical sixties phenomenon to build a completely different sports coupe based on a normal sedan and the Volvo P60 was one of the first (except Fiat, because it did nothing else).
Technically there was nothing revolutionary about the P1800. Under the skin was the same technology as in the Amazon. There was nothing wrong with that either. Outwardly he was a child of his time, with a Frua or Ghia-esque line, a prominent grille protruding from the front, split bumpers and small wings that soon started to get a bit old-fashioned after 1961. But that didn't matter to the generally somewhat conservative Volvo customer. The P1800 was not a sports car and was not sold as such. A sports car roars, curls into the asphalt and unleashes dashing G-forces on its occupants. None of that with the P1800. It just drove well.
The seating position was low, giving the car a sense of security and allowing tall people to fit in without hitting the roof at every pothole. The rear seat was more suitable for jackets and bags, but a child could easily hitch a ride in this 2+2. Mothers-in-law couldn't get in anyway, that was an advantage that should not be underestimated. The car had a large trunk, nice seats, steered and braked precisely, had comfortable suspension, performed well and had a heater geared to the Swedish winter. What does a man want more.
The problem was that Volvo in Göteburg had no production capacity at all for its youngest member. The 121/122/123 sold very well and there was nothing to complain about the demand for the P544. That is why the P1800 was assembled in England, Volvo only supplied the technical components. Pressed Steel in Coventry stamped the body parts, Jensen in West Bromwich welded and screwed everything together. That is why the 1961-1963 models are still called Volvo 'Jensen' P1800.
The Saint
The English touch was further enhanced when "The Saint" appeared on TV from 1962. That became an immensely popular series about a master thief, played by Roger Moore, who drove around in his Volvo P1800 almost every episode. That boosted production to 5000 units a year, prompting Volvo to start on a new production line, so that from 1963 it was also a real Swedish car, pressed from real Swedish steel, mounted by serious-looking Swedish ladies and gentlemen (yes, back then there were already more women than men on the production lines at Volvo). At the same time, the name was changed to 1800S, from Sverige (Sweden).
The model did not make Volvo rich, but sales were stable and the P1800 in the showroom gave the brand just that bit of chic-sporty reputation it needed. In 1968 the B20 engine was installed and a year later Bosch petrol injection was introduced and the model name became 1800E. At the same time there was a black grille, a new dashboard, small air outlets on the rear fenders, the gearbox of the new 164 and beautiful five-spoke aluminum rims.
The first chapter was published in 1971. The P1800 had not been a hypermodern model in 1961, in 1971 it was downright old-fashioned, just like its base the Amazon. He therefore retired, the sportsman got a second childhood.
1800ES
Chapter two consisted of the Volvo 1800ES. That was a very clever way to breathe new life into an outdated model. In England, a two-door station wagon is called a "shooting brake", literally a car for hunting. The Reliant Scimitar GTE has been coming from England since 1968 and it was a bit like plagiarism what Volvo did, but in Gothenburg they couldn't possibly know what was going on in the Ogle studios in London, so let's just say it was one of those co-conceived twins.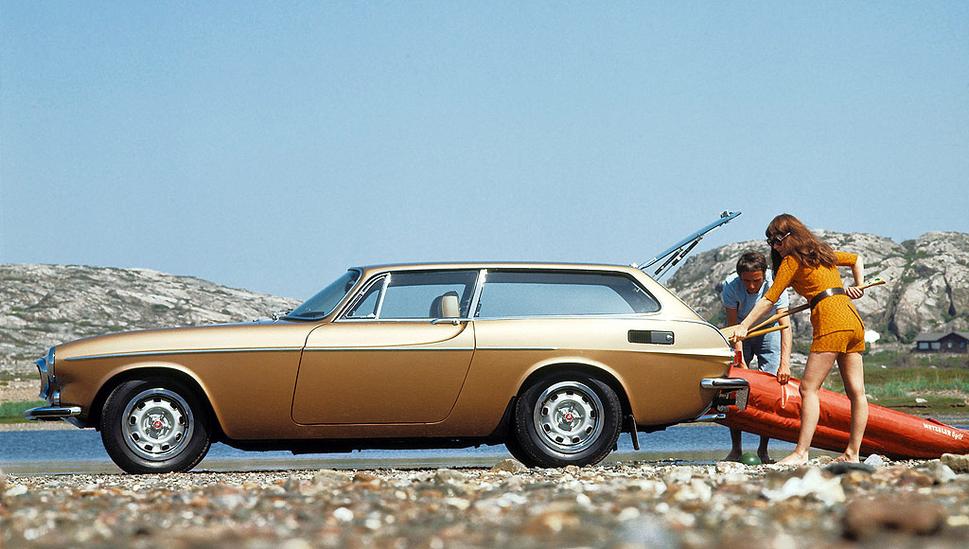 Suddenly, the sportsman had become a very useful car, with a large rimless glass tailgate that gave access to a ballroom of a load floor when the rear seat was folded away. The rear seat was slightly enlarged, without being really comfortable, but a family could go on holiday with it and that's what it was all about. In view of the expected heavier load, the track width was increased and the rear springs were heavier. A Borg-Warner automatic gearbox also became available – the 1800ES simply followed the developments that were also applied in its family brothers 140 and 240. The model ran out in 1973, but was not forgotten: in 1995 the Dutch 480ES received a few styling cues from the 1800ES with you.
Let's go across the ocean
In 1966, Irv Gordon of East Patchogue, an insignificant town in upstate New York, bought a brand new 1800S. He apparently took good care of it, because in 1987 he still had the Volvo and got 1 million miles. That is 1.609.344 kilometers. He decided to go for the Guinness Book of Records. He succeeded in 1998: his Volvo reached a distance of 1,69 million miles, 2.719.791 kilometers that year.
Volvo intervened and offered Irv Gordon a contract. The now retired teacher would from now on be reimbursed for all expenses by the factory, if only he would visit as many car fairs and events as possible with his champion car. Apparently Mrs. Gordon was okay with it, as Irv set out and toured all that was going on in both the US and Canada in his red 1800S. In fact, after his retirement, the good man embarked on an endless, 100% free car holiday in an old Volvo 1800S. There are worse ways to fill the fall days of your life.
The two million miles, 3.218.688 kilometers, was achieved in 2002 and the three million miles, 4.828.032 kilometers, in 2013. When Irv Gordon left this world, on November 15, 2015, a red Volvo 1800S was waiting at the door. with 3,2 million miles, 5.149.900 kilometers on the clock.
Boring and solid? I will. Just copy it.
Also read:
- Volvo P1800 and 1800. A beloved classic has been around for over sixty years
- The special designs of Ogle Design
- Electric Volvo Amazon combi - design battery bins
- More than sixty years strong: the Volvo Amazon
- Reliant Scimitar SE6A